Summer 2012
Performance workshop with the underprivileged children of Dhakuria, Kolkata
---
Excerpt from Stanford | Center for South Asia Fellowship Recipients page | (link)
This summer, my project is going to be similar to my previous volunteering activities with CRY (Child Relief and You, a non-profit organization, which works with and for underprivileged children) in Kolkata. I will be working with children from their organization, and will be conducting various performance workshops for them. These workshops will be in the form of games and exercises, which will be loosely based on Viewpoints by Anne Bogart and Tina Landau. The final aim of my project is the creation of original work by these children, by giving them tools to express themselves. Each one will be given an opportunity to tell a story – with voice, touch, body movements, verbal telling or visual representation.
The focus of my project is twofold – while this aims to give these children a medium and a platform to express themselves, this would also create awareness in the community in general, about their stories, dreams, aspirations and needs. The project would manifest as a final performance by these children, which would be open to the general public.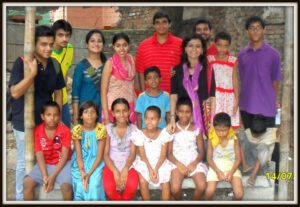 Project Review
When I had contacted CRY to propose a performance workshop with the children of Dhakuria slum, little did I know that all that I had prepared, and all the structures I had drawn up as a workshop plan will prove to be quite irrelevant and extra when actually working with their children. There were not only unforeseen challenges, but also joys of immeasurable satisfaction to work with these children who had so much to offer. I had a three-week plan chalked out for a series of interactive workshops and theatre games. When I went to the Kalikapur office, I was told that it would be wonderful to have the children perform a short skit that would come out of their struggles and their stories. Having changed from Child Relief and You to Child Rights and You, the organization believes it is important for children to be aware of their own rights and vocalize them with their own expressions.
On the first day of rehearsals, I realized I would be assisted with many other volunteers. The children were already familiar with them, and their ways of working, which is why the first few days were spent trying to break the ice and make them comfortable working with me. The following weeks proved to be challenging. We did not have a space to rehearse – because of many bureaucratic, political and even social reasons, CRY still did not have any enclosed space where the children could rehearse. The parents were not comfortable sending their children with some unfamiliar people to any enclosed room. They would feel safer if their children were around their slum. So we decided to make do, which would often be the case henceforth. In a park very close to their slums, we would meet every alternate day, after school hours, to develop a script from their experiences, and then rehearse it. It was monsoon, and therefore, sudden storms or downpours were not unusual, in which case we had to postpone or cancel rehearsals. Besides, children were falling ill almost every week, and could not attend all sessions, so the cast would keep changing all the time.
Despite all these limitations, the children were dedicated and excited, and were willing to take more ownership of their own roles in the performance. Even though we did not end up putting up a final play after those three weeks, after I came back, I heard that they had finally put up the skit in front of an intimate audience that comprised mostly people from their own community, their parents and some CRY employees and volunteers.